Principal's Update: December 7, 2020
News & Attachments:
Food Boxes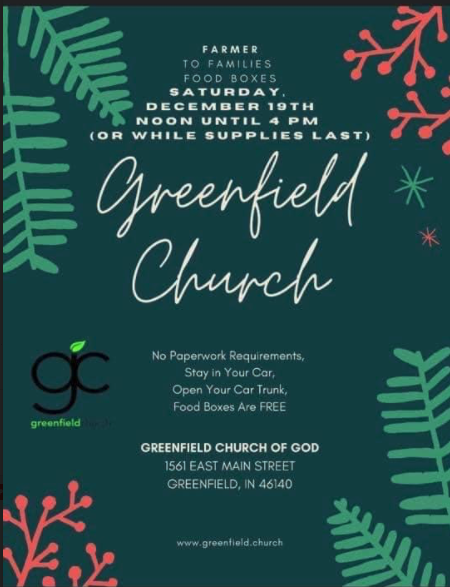 ILEARN for Virtual Students
Swimming and Diving Team Information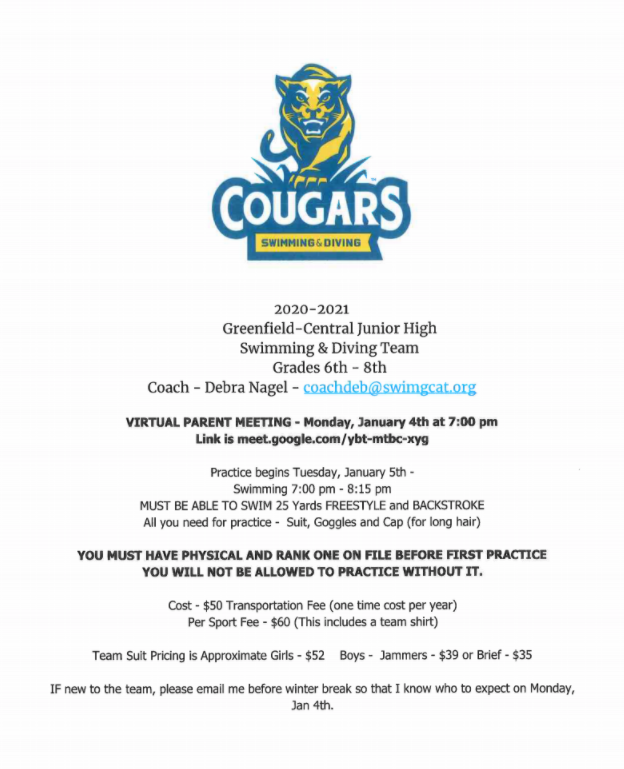 Hancock County NASA Student Days
News:
Weekly lesson plans posted by teachers.
Math tutoring has been moved to Mondays and Tuesdays from 3:30-4:30 starting this week (7th grade room E111/8th grade B142).
Many are carefully watching to see if Hancock County moves from an ORANGE status to a RED status on Wednesday. If our county does move to RED, it does not necessarily mean GCJHS will change our schedule. Many factors go into the decision to change:

State and local case numbers
School cases
Close contact numbers
Our ability to cover all classes
We are having conversations with our county Health Department on a consistent basis. We will continue to make the best decision we can for GCJHS (and our corporation) based on student and staff safety. As soon as any decision is made, we will get that information out to you. Please do not hesitate to call or email me with any questions.
If you have a child who is quarantined (either as a close contact or someone who had the virus), please make sure they are engaging in their classes while they are gone. Everyone should log in to their google classroom by their daily schedule, when at home, unless they are too sick to work.
Please check in with your child and their Powerschool grades to make sure they are where they need to be. Reach out to your child's teacher if you have questions.
While we are on the hybrid schedule, we will take attendance in every class. This is so that parents can be aware if their children have logged in to each class. It will also help our teachers to track student makeup work. You should be able to see your child's attendance in PowerSchool.
Meals will be made available to students for the days they are learning from home. Complete the order form (https://forms.gle/gr5Zo1bxdqofpH1C6) by Sunday night EACH WEEK you need to pick up meals for at-home consumption. Students should pick up their meals for the week in the cafeteria at the end of their first day onsite for that week (A-K on Monday and L-Z on Tuesday).
Virtual School Information
The move to a hybrid schedule does not affect your child's schedule. Everything is status quo for virtual school students.
If G-C CSC implements a 2 hour delay the morning of a scheduled meal kit pick up, the meal kit pick up will be moved to the next day at the same pick up time and location. Evening meal kit pick up will not change. If this change causes an inconvenience for you, please contact Amanda Stout, Director of Food Services, at 317-477-4107, and alternate arrangements can be discussed.
If you are currently signed up, additional dates will be added to the form over Christmas Break for when school resumes in January. We thank you for taking advantage of this wonderful opportunity!
If you are not signed up for meal kits and would like to start receiving them, please sign up here: https://forms.gle/kbjRkixrea2aXg1G7
Meal kits are free of charge to all virtual students. We highly encourage you to take advantage of this wonderful opportunity!
Please see the attached letter with more information about Indiana's requirements for all virtual students to take the ILEARN test this spring on campus.
For our parents of virtual students: Some students who are struggling in a virtual setting will be transitioned to onsite learners after Winter Break. We will make these decisions with teacher, counselor and administrator input, and notify families.
If you are having technology trouble, email our tech team at

[email protected]

All students should be logged into Google classroom every day. We ask parents to check Powerschool and help to encourage your child to log in to Google Classroom daily, and complete all assigned work. Here is the daily schedule for students.
Upcoming Dates:
December 17: Semester Exams Last names A-K
December 18: Semester Exams Last names L-Z
December 21-January 1: Winter Break (No School)
January 4: School Resumes
School Counselors
Need assistance with a class? We encourage you to reach out to your teachers if you need some help with a class. Other options might include:
Math tutoring after school each Monday and Tuesday from 3:30-4:30.
Please reach out to your school counselor for a copy of the corporation
tutoring list.
Rose-Hulman Institute of Technology's Ask Rose tutoring services 7pm.-10pm, Sunday through Thursday 1-877-275-7673 or AskRose.org.
Indiana Retired Teachers Association, 1pm.-5pm., Tuesday through
Thursday 1-877-457-8839
Athletics
1. Greenfield Central Jr. High spectator limits for winter sports: Only parents/guardians will be allowed to attend home athletic events. Spectators must wear masks at all times. Admission remains $4/person. Concession sales will be limited to drinks and candy, which are all pre-packaged items. Please maintain distance from other households.
2. Information about the GCJH swim team, organized through GCAT, will be available soon. Questions can be directed to Coach Nagel ([email protected])
3. Our competition schedule is available here. This schedule still continues to change: http://gcjhsathletics.weebly.com/team-schedules.html
4. Contact Mr. Jeff Sincroft with any ECA/Athletics questions. [email protected]
COVID-19 Information:
The COVID-19 Parent Screening for Parents provided by the Indiana State Department of Health lists the following symptoms that will result in a student being sent home, or signal for a parent to keep a student home:
Temperature of 100 or chills
Sore throat
Runny nose
Congestion
Cough or shortness of breath (especially new onset, uncontrolled cough)
Diarrhea, nausea or vomiting, abdominal pain
Headache (particularly new onset of severe headache, especially with fever)
New loss of taste or smell
This list does not include all possible symptoms. Other symptoms may be considered when determining when a student should stay home.
Symptomatic students or staff members may return to work/school per the ISDH Return to School Guidance. The simplified version is that symptomatic students and staff may return when:
Symptoms are improved for 24 hours, fever free for 24 hours without the use of fever-reducing agents, and a negative COVID-19 test. Documentation of the negative test is required.
OR
Ten days have passed since the onset of symptoms, symptoms have improved for 24 hours, and fever free for 24 hours without the use of fever-reducing agents. No documentation is required from a healthcare provider.
OR
Alternate diagnosis given by a healthcare provider. Documentation from the provider must give a return date and state that his/her illness was "not related to COVID-19" or "Cleared to return to school/work".
If a student or staff member is identified as a close contact to a non-GC related confirmed COVID-19 positive case (for example, spouse, grandparent, non-GC co-worker, etc.), documentation must be provided by a health department or healthcare provider indicating the first date of return. GC is not responsible for initiating or conducting contact tracing on non-GC related exposure. This documentation must have the student or employee's name on it and their earliest return to work/school date.
If your student is asked to stay home for 10 days by the clinic, which is following CDC guidelines, he/she will be coded in PowerSchool attendance as VIRT- COV — Virtual Temporary due to COVID -19. This is the coding that the Indiana Department of Education has asked us to use. This coding DOES NOT mean that your student has been moved to our corporation's virtual program.
Please understand that only staff members see this information. Also, it does not necessarily mean that your student has COVID-19, it just means that your student is absent due to a COVID-19 situation. If your student is asked to quarantine, he/she should reach out to his/her teachers via email and/or Google Classroom so that your child can stay connected and working during the absence.
Connections:
We have multiple ways for you to obtain information regarding what's happening at GCJHS.
Website– http://gcjhs.gcsc.k12.in.us/
Twitter- @GCJHS_principal
Facebook – Greenfield Central Junior High School
Instagram– gc_jhs
PowerSchool App- Get up-to-date grades for your child, missing or incomplete assignments, attendance and school announcements. Search for "PowerSchool Mobile" in your App Store. Once you download the app, you can search by school or type in school code 3125.
If you would like to be removed from this email list, please email "Stop" to [email protected]
—
Dan Jack
PrincipalGreenfield Central Junior High SchoolTwitter: @GCJHS_principal