Principals Update 11/18/19
Attachments
7th grade Chicago Trip Info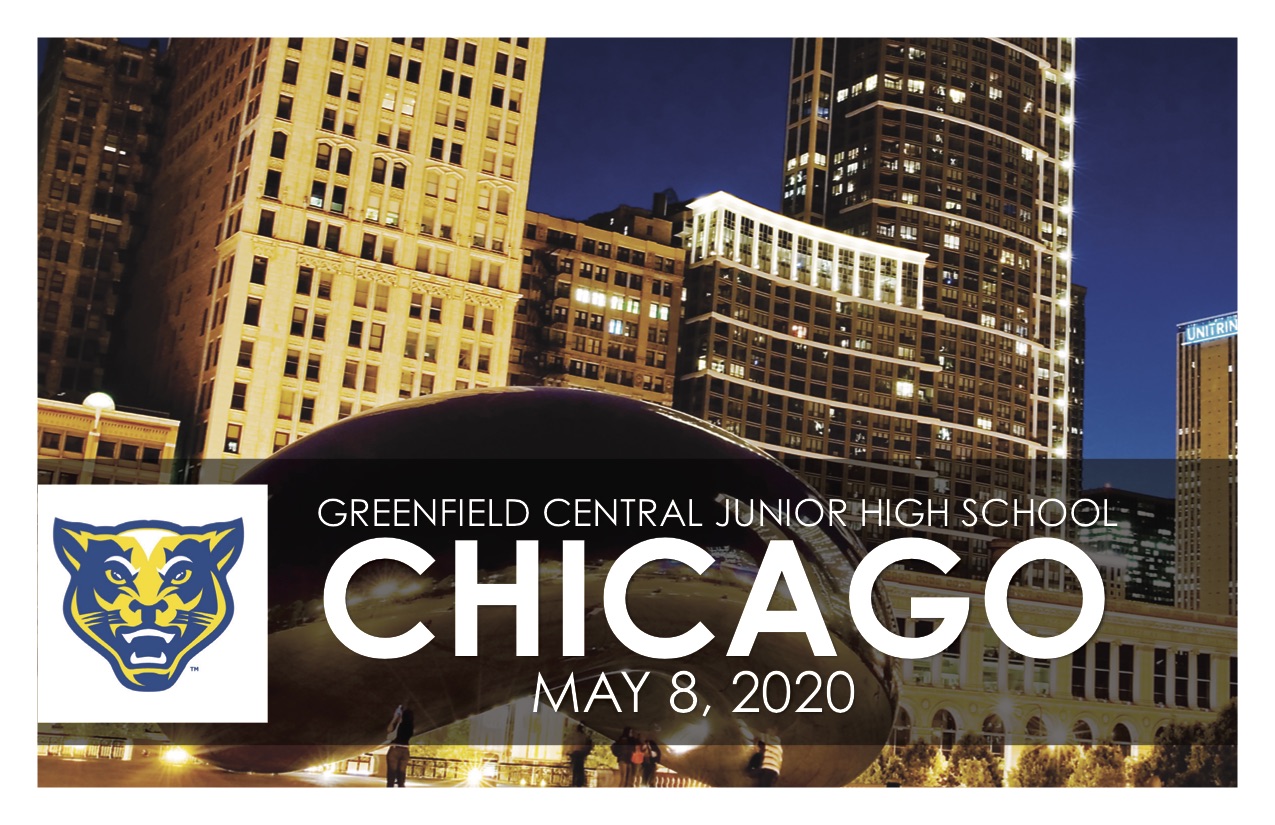 Applebee's Dine to Donate Flier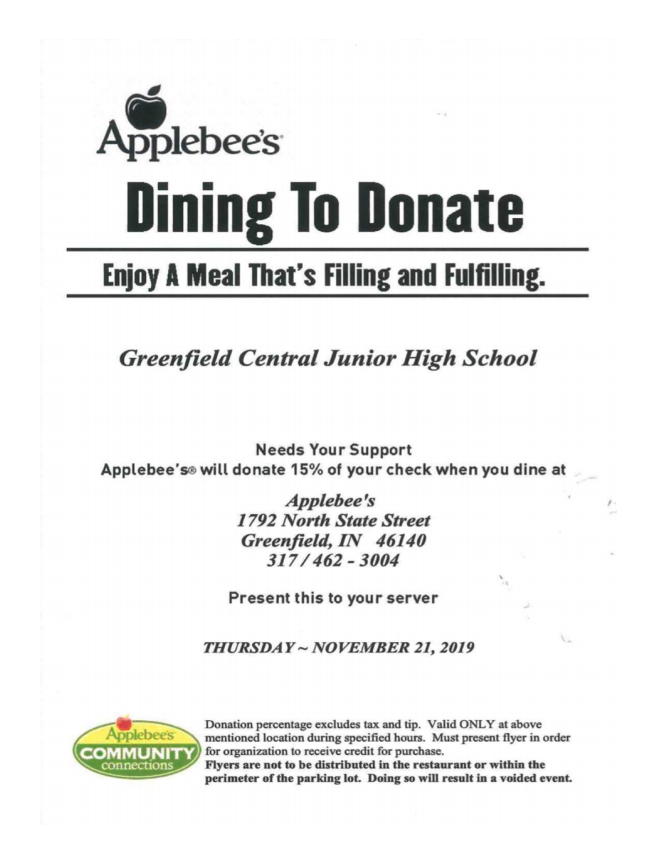 News
1.Reminder that tomorrow is an E-Learning Day.  Students will work on assignments from home.  If students have technical issues, you can call tech support: 317-477-4111.  
2. We are offering math tutoring at GCJHS on Mondays and Wednesdays, after school until 4:30 pm. 
3. We will have an 8th grade DC trip update meeting on Wednesday, December 11, at 6:30pm. We will have important updates on flights, funds and travel requirements. Please try to have someone from your family attend.
Upcoming Dates
November 19: eLearning Day (students will work from home)
November 21: Applebee's Dine to Donate for DC (flyer required)
November 27-29: Thanksgiving Break No School
December 3: Culver's Dine to Donate for DC
December 11: DC Traveler Update meeting
Athletics
Monday, Nov. 18th:
1. 7th Grade Boys Basketball vs Shelbyville (A & B teams) — 5:30pm
2. 8th Grade Boys Basketball @ Shelbyville (A & B teams) — 5:30pm
Tuesday, Nov. 19th:
1. 7th Grade Boys Basketball (A & B teams) @ HSE Jr. High — 5:30pm
2.  8th Grade Boys Basketball vs HSE Jr. High (A & B teams) — 5:30pm
Saturday, Nov. 23rd:
1. 7th Grade Boys Basketball (B Team Tournament) @ Connersville — 9am
2.  8th Grade Boys Basketball (B Team Tournament) — 9am
Local Basketball League Opportunity for Students
FYI for any parents 7th or 8th-grade student interested in another outlet to participate in basketball. Jerry Rogers has worked with the Greenfield Parks Department and they will have opportunities for students to play basketball at the Memorial Building from 3:30 – 5:30 pm, starting on Monday, November 18th. If you have any questions about this great opportunity, please reach out to Mr. Rogers at

[email protected]

or at 317-442-3318. Thank you to Mr. Rogers and the Greenfield Parks Department for this great opportunity for our students! 
Clubs and Contacts
Here are ways for you to obtain information regarding what's happening at GCJHS.
Website– http://gcjhs.gcsc.k12.in.us/
Twitter- @GCJHS_principal
Facebook – Greenfield Central Junior High School
Instagram– gc_jhs
PowerSchool App- Get up-to-date grades for your child, missing or incomplete assignments, attendance and school announcements. Search for "PowerSchool Mobile" in your App Store.

Reminders
2019-2020 Yearbooks can be ordered online for $29. Follow this link to order yours!
We will have an eLearning Day November 19 and February 5.
Car rider traffic- Please drop your child off along the curb. In order to keep all students safe during pick up and drop off, we ask that you only park in the parking lot if you plan to come into the building or the traffic has cleared.
If you would like to bring lunch for your child, please contact the office to reserve a conference room. Students can choose friends to eat in the conference room as well.
We encourage students to attend our athletic events. Any GCJHS student who wears school colors will be admitted for free to our junior high home events.
Breakfast is available to students every morning before school for $1.75.