Principal's Update 3/9/20
Attachment
Letter from Dr. Olin regarding precautions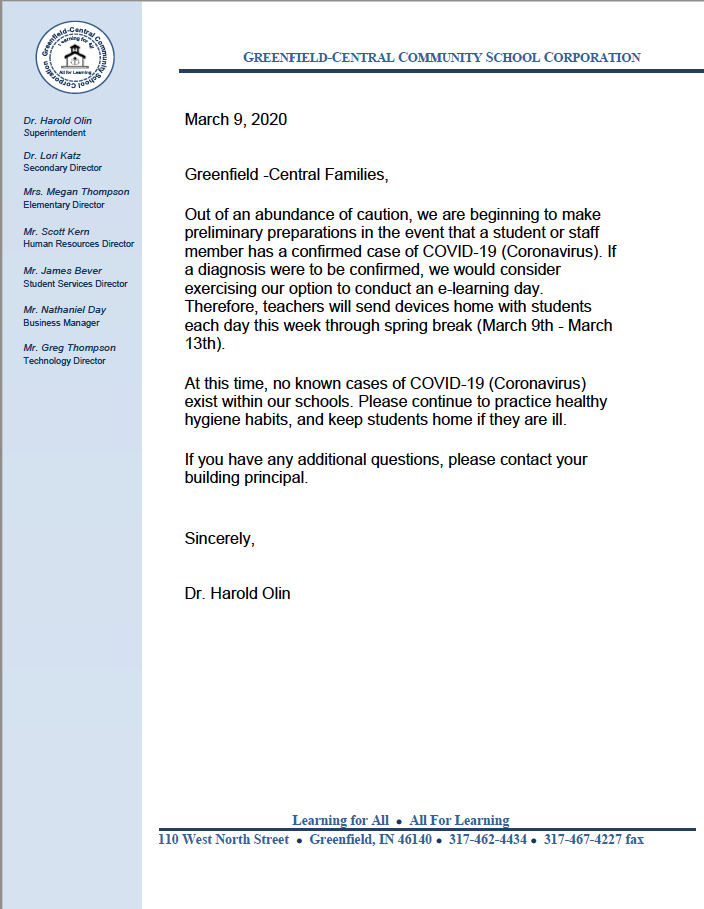 8th grade dance parent letter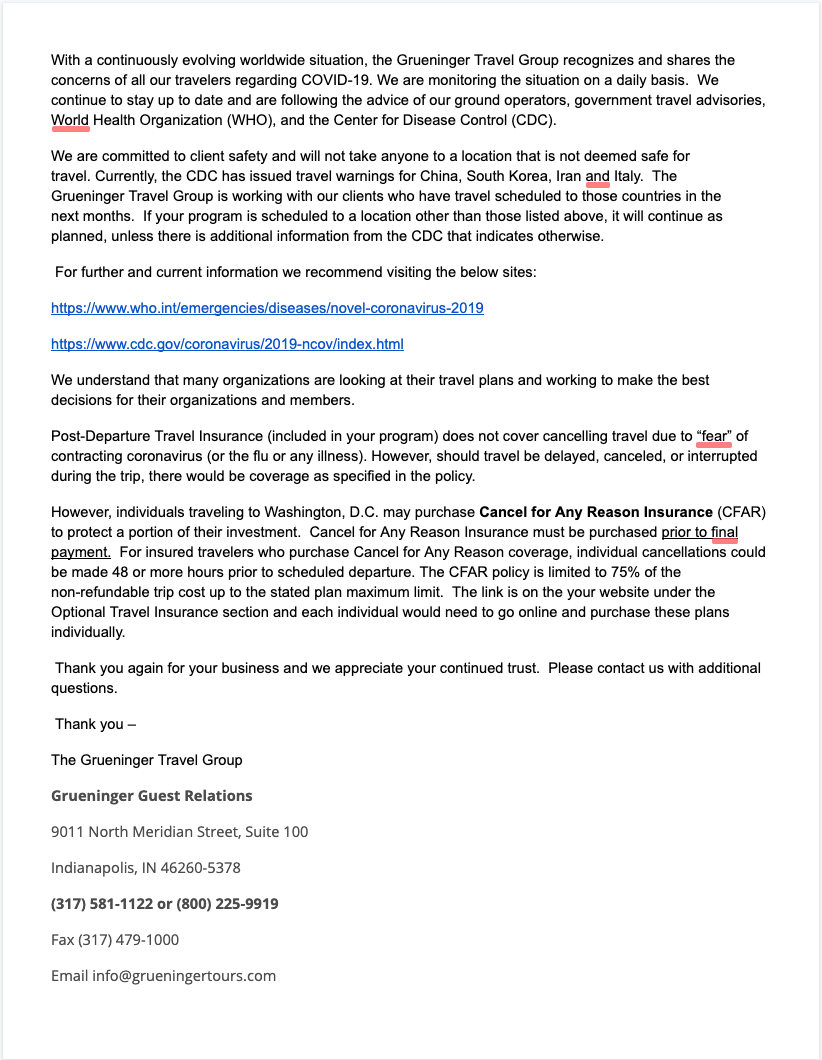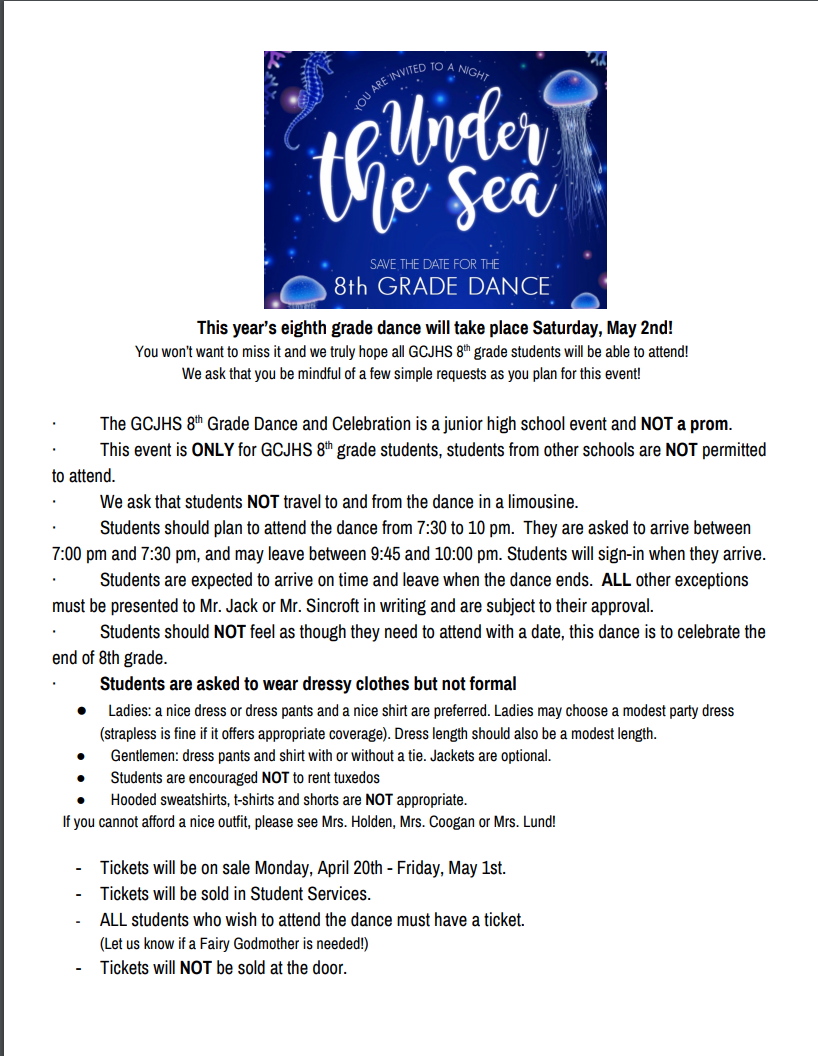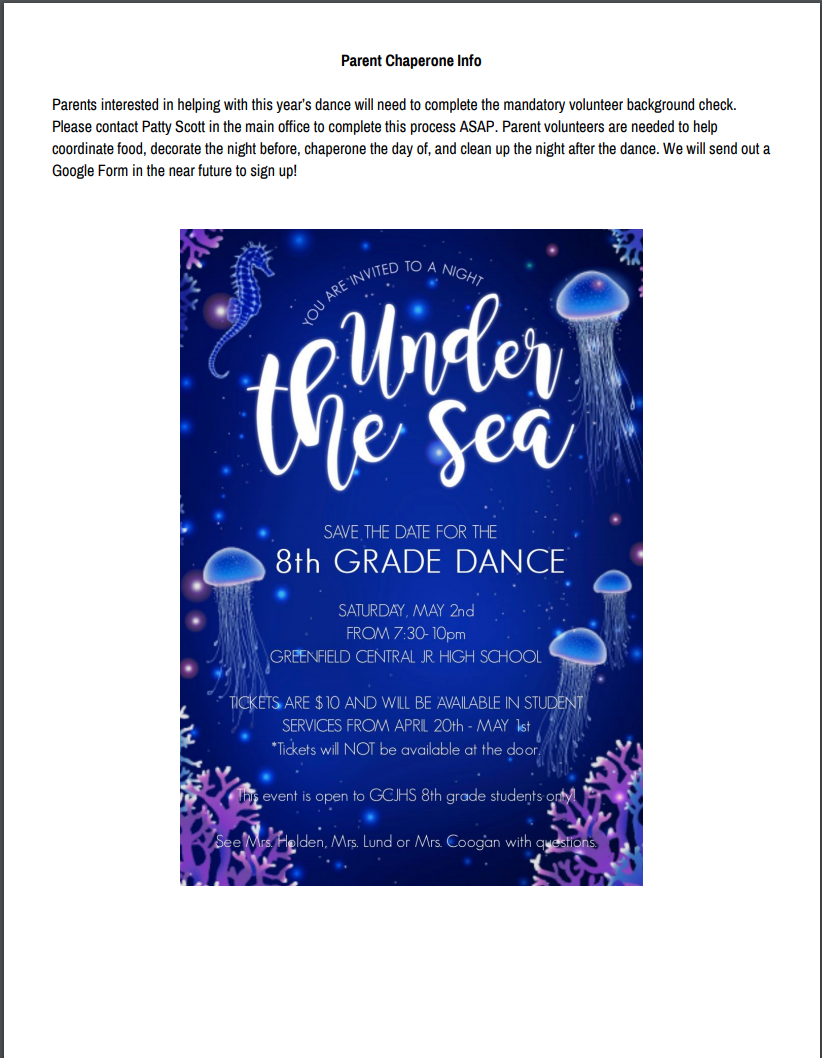 News
1. Attached to this newsletter is a letter from Superintendent Dr. Olin. If there is a need, GC schools could use eLearning Days to protect students from illness.

2. We had a custodial crew in the building this weekend, cleaning and disinfecting. Teachers have been given disinfectant and hand sanitizer as well.

3.  8th-grade parents: If you haven't scheduled an appointment with your child's high school counselor, you can call our office and we can help schedule you.  This is the last week for appointments at GCJHS.

4. The Fusionettes qualified for State Finals this weekend. Congratulations!

5. Lillian Keith earned a silver medal and was the national qualifier in her STAR event about entrepreneurship in FCCLA competition. Way to go!

DC information
1. We emailed information about trip insurance this morning. If you did not get the email, you can read it here.
2. The last payment is due March 15. If anyone is unable to pay for the trip, we will begin working through the remainder of the waitlist.

Chicago Information
1. Please read this letter from Grueninger Tours regarding safety precautions and the trip insurance.
2. Beginning Tuesday, at lunch, students can sign up for their groups and busses for Chicago.
Upcoming Dates
March 16-27: Spring Break
March 31: ISSMA Preview Concert
March 31: GCJHS Night @ Dairy Queen
April 22: GCHS Athletic Physical Night
April 20-May 15: ILEARN/NWEA Testing Window (Please avoid morning appointments)
May 2: 8th Grade Dance
May 8: 7th Grade Trip to Chicago
May 14-16: 8th Grade Trip to Washington, D.C.

Athletics
Reminder: Any student who plans to participate/try-out for any sport must have an updated physical turned into the GCJHS office and submit the required online paperwork through RankOne. Please contact Mr. Wilson with any questions at [email protected].

7th Grade Baseball Tryouts:
March 9 4:15-6pm @84 Sports 2033 W. US Hwy 40 (required waiver is available in the office)
March 10 @GCJHS baseball field or gym
Athletes must attend both days

Golf Meeting will be held on Tuesday, March 10th, after school in the GCJHS Cafeteria. Any 7th or 8th grader interested in participating in golf should plan to attend this meeting.
Clubs and Contacts
Here are ways for you to obtain information regarding what's happening at GCJHS.
Website– http://gcjhs.gcsc.k12.in.us/
Twitter- @GCJHS_principal
Facebook – Greenfield Central Junior High School
Instagram– gc_jhs
PowerSchool App- Get up-to-date grades for your child, missing or incomplete assignments, attendance and school announcements. Search for "PowerSchool Mobile" in your App Store.

Reminders
We are offering math tutoring at GCJHS on Mondays and Wednesday, after school until 4:30pm.
2019-2020 Yearbooks can be ordered online for $29. Follow this link to order yours!
The 8th grade dance is scheduled for May 2. Only GCJHS 8th graders are invited to attend.
Car rider traffic- Please drop your child off along the curb. In order to keep all students safe during pick up and drop off, we ask that you only park in the parking lot if you plan to come into the building or the traffic has cleared.
Please remember to check your child's lunch account regularly. You can log in to https://www.ezschoolpay.com/Login.aspx to manage lunch accounts and set a notification for low balances.
If you would like to bring lunch for your child, please contact the office to reserve a conference room. Students can choose friends to eat in the conference room as well.
We encourage students to attend our athletic events. Any GCJHS student who wears school colors will be admitted for free to our junior high home events.
Breakfast is available to students every morning before school for $1.75.
Parents who have signed up to chaperone either the 7th grade trip to Chicago or the 8th grade trip to Washington, D.C., need to complete the paperwork for the free G-C criminal background check. Here is a link to the application.
Mr. Jack
Principal, Greenfield-Central Junior High School