Principal's Update 9/23/19
Attachments
GCJHS Washington, DC Night at Dairy Queen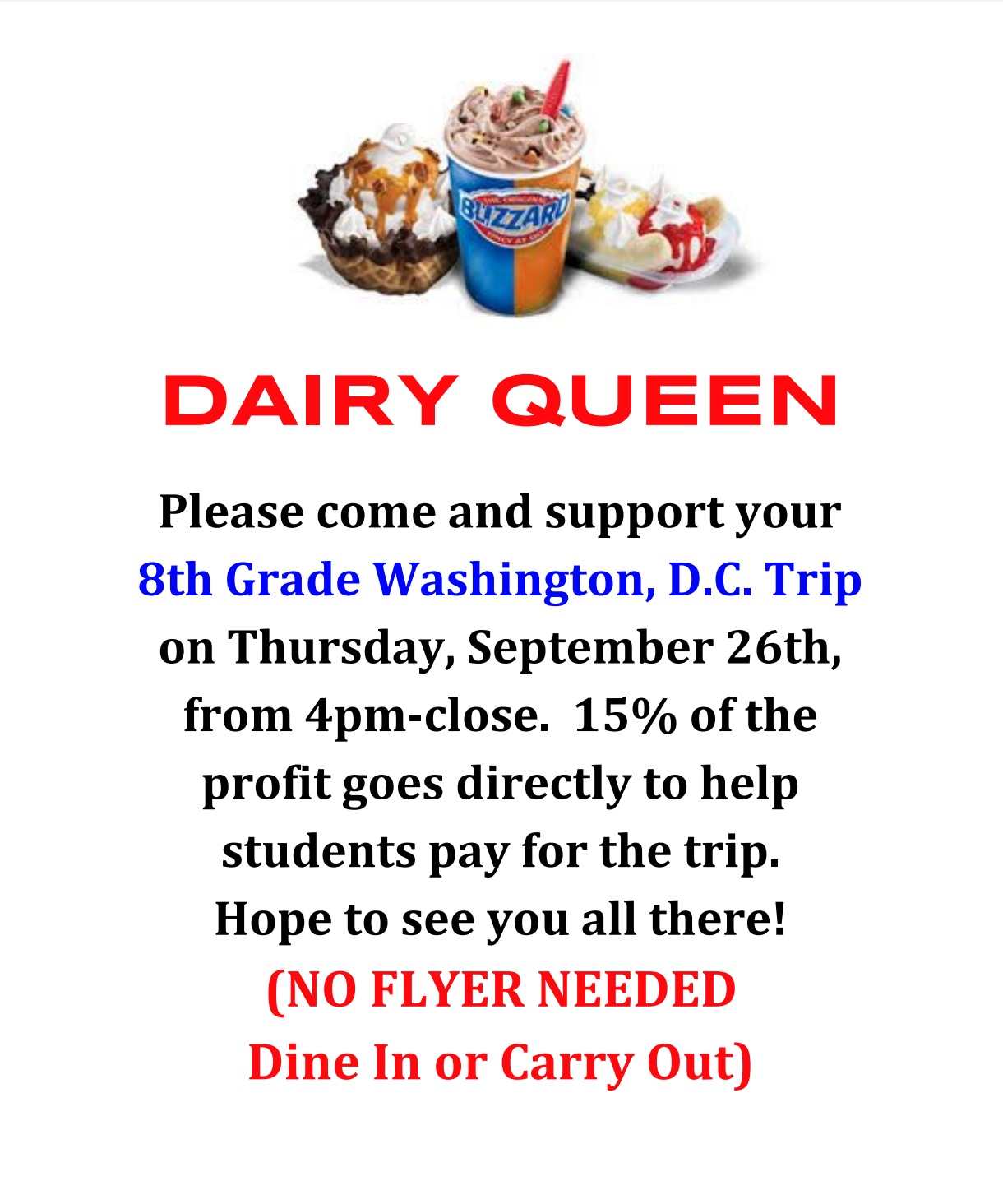 News
Please come to Dairy Queen on Thursday for GCJHS DC Trip Night.  A percentage of all sales from 4pm to close will go to help pay for students to go to Washington, D.C. in May.    
You may have received an email last week asking you to fill out this parent survey.  If you have not already filled it out, please take a few minutes to do so. We appreciate your feedback! https://www.pbisassessment.org/Anon/DGjZ0BzI1e0
The G4C/B4C groups are hosting "See You at the Pole" on Wednesday, September 25, at 8am. They will meet at the flag pole in front of the building to pray for the school, the community, and the nation.
Junior high students who attend the high school football games have been asked to stay in the bleachers during the game.  Please discuss this with your child if you are dropping them off for the game.
Vaping has been in the news in recent weeks.  We are seeing a growing number of students who are using and sharing vapes/juuls/etc.  Please talk to your child about the risks and how he/she might resist peer pressure. Any student who uses or is in possession of such a device, will receive a suspension from school as well as a ticket from our school resource officer.  Here is the Indiana code: http://iga.in.gov/legislative/laws/2017/ic/titles/035#35-46-1-10.5
College Go Week is a statewide campaign to help students at every grade level to plan their path to further education after high school.  College Go Week is this week- September 23rd through September 27th. We have scheduled some activities for staff and students in honor of promoting this week at school.  Some of the activities at GCJHS include the following: daily announcements regarding post-secondary education, dressing in college gear, classroom visits to discuss 21st Century Scholars, and a college door-decorating contest.  
This year, we will have two eLearning Days (November 7 and February 5).  A change from last year is our schools will no longer be open those days for kids to come and work.  We are working with some local agencies (like the Boys and Girls Club) to find a place for kids who don't have supervision at home those days. 
Do you like to run?  Sign up for the Run3ForDC 5k Run/Walk.  It will take place on Saturday, October 26 on the GCJHS campus.  Register online with this link. https://runsignup.com/Race/IN/Greenfield/Run3forDC
Mr. Anderson is looking for adult volunteers to help run the various booths for the Reality Store for the Preparing for College and Careers classes.  If this sounds like an activity you would like to participate in please reach out to him at [email protected]  It would require your assistance for a full school day.  They plan to conduct orientation between 7:30 and 8:00 AM.  Lunch will be provided at the Junior High.  
Clubs and Contacts
Upcoming Dates
September 26: GCJHS Night at Dairy Queen
October 21: GCJHS Night at Jim Dandy
October 28: Band, Choir and Strings Concert
October 29: Picture Retakes
October 29 and November 6: Parent-Teacher Conferences
November 7: eLearning Day (Students work from home)
Here are ways for you to obtain information regarding what's happening at GCJHS.
Website– http://gcjhs.gcsc.k12.in.us/
Twitter- @GCJHS_principal
Facebook – Greenfield Central Junior High School
Instagram– gc_jhs
PowerSchool App- Get up-to-date grades for your child, missing or incomplete assignments, attendance and school announcements. Search for "PowerSchool Mobile" in your App Store. Once you download the app, you can search by school or type in school code 3125.

Athletics
Monday, Sept. 23rd:
8th Grade Football vs. Franklin Township East — 5:30pm
Volleyball vs. Franklin Township West — 5:30pm
7th Grade Football @ Franklin Township East — 5:30pm
Cross Country @ New Palestine — 5:30pm
Tennis @ Tri. Jr.-Sr. High — 5:30pm
Tuesday, Sept. 24th:
Volleyball @ New Castle — 5:30pm
Tennis vs. Knightstown — 5pm
Girls Soccer vs. New Palestine — 5:30pm
Boys Soccer vs. New Palestine — 6:45pm
Wednesday, Sept. 25th:
7th football vs. New Castle — 5:30pm
8th football vs. New Castle — 5:30pm
Thursday, Sept. 26th:
Tennis vs. Franklin Township East — 5pm
Boys Soccer @ Pendleton Heights — 5pm
Girls Soccer @ Pendleton Heights — 6:15pm
Volleyball @ Shelbyville — 5:30pm
Saturday, Sept. 28th:
Reminders
Car rider traffic- Please drop your child off along the curb.  In order to keep all students safe during pick up and drop off, we ask that you only park in the parking lot if you plan to come into the building or the traffic has cleared. 
If you would like to bring lunch for your child, please contact the office to reserve a conference room. Students can choose friends to eat in the conference room as well.   
We encourage students to attend athletic events. Any GCJHS student who wears school colors will be admitted for free to our junior high home events.  
We will have two eLearning Days this year, where students will work from home and teachers will keep office hours. The dates are November 7 and February 5.  School days canceled due to weather can also be eLearning days. If this occurs, details will be given in the automated phone call.
Breakfast is available to students every morning before school for $1.75.
Mr. Jack
Principal, Greenfield-Central Junior High School